Officials
| | | |
| --- | --- | --- |
| DANCESPORT | SALSA | SWING |
| Frank Regan - Washington, D.C. | Rick Post - Houston | Buddy Shwimmer |
| Victor Kanevsky - New York | Guillermo Rubio - Florida | |
| Patti Troy - Florida | Francois Jacques - Florida | |
| Tommye Giacchino - Illinois | Elaine Marrero - Michigan | |
| Gregory Day - Illinois | | |
| Didio Barrera - Florida | | |
| Keith Todd - Florida | | |
| | | |
| | | |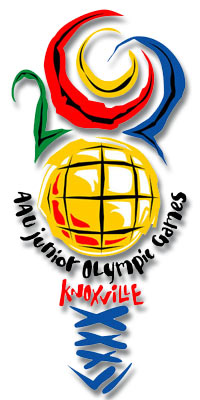 2002 AAU Junior Olympic Games

2002 AAU Junior Olympic Games Dancesport Latin and Standard Gold Medal Champions Pavel Pashkov and Natalya Bychkova.
2002 AAU Junior Olympic Games Salsa Gold Medal Champions Albert Martinez and Katherine Rodriguez from the International Dance Studio in Miami, Florida.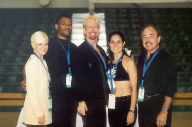 Judges: Patti Troy, Francois Jacques Isaac Altman, Laura Altman, Rick Post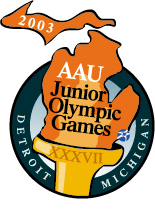 2003 AAU Junior Olympic Games

DANCESPORT IN THE AAU JUNIOR OLYMPIC GAMES AGAIN!
The World Renown AAU Junior Olympic Games will be including Salsa and Dancesport again as one of its contested sports in 2003. These 2 dynamic forms of dance were accepted in the AAU and Junior Olympics for the first time in 2002 and were contested for the first time that same year. The 2003 Junior Olympics are going to be held:
When: July 23 - August 2, 2003
Where: Detroit, Michigan
Venues: 16 venues in and around Metro Detroit, including Ford Field and Eastern Michigan University
The AAU Junior Olympic Games are the largest national multi-sport event conducted annually for youth in the United States.
Official Judges for the 2003 Junior Olympics in Dancesport and Salsa: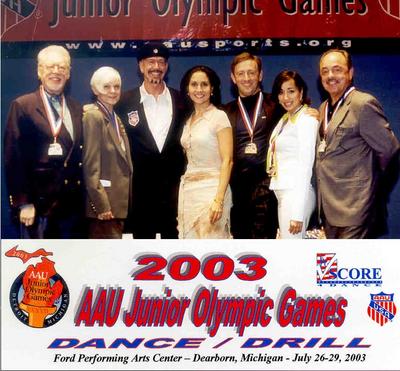 Frank Regan - Washington, D.C. , Patti Troy - Florida, Isaac Altman - Florida, Laura Altman - Florida, Victor Kanevsky - New York Elaine Marrero - Michigan, Ricardo Post - Texas
The Dancesport and Salsa competition was held at the Ford Performing Arts Theater in Dearborn. The dancers competed on stage with professional lighting that made their performances look even more spectacular. Competing on stage was very new for the competitors, so a bit of adjusting had to take place. In the future it may be a good idea for coaches to train dancers on a venue of this nature, but make no mistake, dancers and stages go hand in hand. It took some dancers just a short time to adjust and the performance side of the competition rose to new heights. One example was the finals of the Open Junior Latin where 3 National Junior Latin Champions, the NDCA, USABDA, and the Canadian champions went head to head to unify this division similar as Boxing does. The judges for Salsa and Dancesport were Rick Post from Texas, who spent 28 years with the Fred Astaire Dance Studios, and is a Judge for the World Salsa Federation currently teaching in Houston. Elaine Marrero is from Michigan/Puerto Rico, is the owner of Troy Dance Studio in Michigan and is a former IDO World Salsa Champion and is the official choreographer for Sony Records-Latin Division. Patty Anderson Troy is from Florida and was a finalist representing Australia in the World 10 Dance Championships and is a World Adjudicator in all styles. Victor Kanevsky is from New York and is a former North American Latin Champion and World Adjudicator. He is also the coach of the U.S. National Latin Champions since 1994. Frank Regan is from Washington D.C., and is a former North American Latin Champion and was awarded life membership in the Canadian Dance Teachers Association for his many years of outstanding contributions to stage and ballroom dance. He currently is one of the principal choreographers for the Miami City Ballet.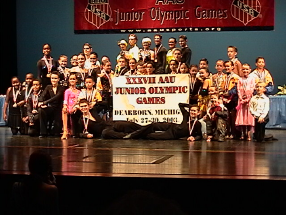 RESULTS:
Pre-Teen Bronze Latin Championship Junior Bronze Latin Championship
GOLD - 26-Pierre-Richard Gautier / Elodie Catave GOLD - 24 Andrew Dumas / Nathalie Pluviose
SILVER - 40 Misha Vorobiev / Ksenia Sovenko
BRONZE - 31 Paul Marianovsky / Gabriela Klaz
Junior Silver Latin Championship Pre-Teen Silver Latin Championship
GOLD - 30 Jacob Marianovsky / Anne Krecmmer GOLD - 41 Conner Zion / Erika Bykov
SILVER - 39 Dmitriy Vorobeiv / Ksenia Sovenko
Pre-Teen Gold Latin Championship Pre-Teen Open Latin Championship
GOLD - 37 Dathan Tyrrell / Simone Peirre-Jerome GOLD - Devin McClure / Nicolette Barton
SILVER - Jason Ehirhovsky / Danielle Karagash
BRONZE - Xavier Pierre-Jerome / Natasha Afonina
Youth Open Latin Championship Junior Bronze Salsa Championship
GOLD - 20 Mark Ballas / Jullianne Hough GOLD - 24 Andrew Dumas / Nathalie Pluviose
SILVER - 44 David Oliveri / Ashleen Ambanta SILVER - 26 Pierre-Richard Gautier / Elodie Cantave
Youth Silver Salsa Championship Junior Open Standard Championship
GOLD - 38 Guillermo Rubio / Yasmin Llevada GOLD - 27 Bradley Gregory / Khyrstyne Barton
SILVER - 28 Michael Ignatovick / Samantha Safir
Pre-Teen Bronze Standard Championship Pre-Teen Silver Standard Championship
GOLD - 40 Misha Vorobiev / Ksenia Sovenko GOLD - 41 Conner Zion / Erika Bykov
Junior Gold Standard Championship Pre-Teen Gold Standard Championship
GOLD - 34 Jarek Piwowarczyk / Zoia Petrossian GOLD - 39 Dmitriy Vorobiev / Kesnia Sovenko
SILVER - 29 Andrew Krymkevich / Yuliya Olshanetskaya SILVER - 37 Dathan Tyrrell / Simone Pierre-Jerome
Pre-Teen Open Standard Championship Junior Latin Formation Team
GOLD - 32 Devin McClure / Nicolette Barton GOLD - New Star DanceSport
SILVER - Xavier Pierre-Jerome / Natashia Afonina SILVER - Millenium Ballroom
BRONZE - Try Dougall / Taylor-Ann Barton
Junior Open Latin Championship
GOLD - MARK BALLAS / JULLIANNE HOUGH
SILVER - IGOR BROBYAZCO / ISABELLA BABOT
BRONZE - NATAN ROSITAN / ANDRA VAIDALIATE (shortly after the JO, they won the WORLD JUNIOR LATIN CHAMPIONSHIPS)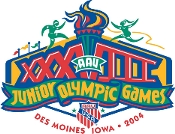 2004 AAU Junior Olympic Games
DANCESPORT, SALSA, AND SWING

Des Moines, Iowa, U.S.A. Thursday, August 5th - Saturday August 7th, 2004

OFFICIAL 2003-2004 AAU RULEBOOK FOR SALSA AND DANCESPORT